Public Telephones
There are 2 public telephones located next to the vending machines in the 1st floor entrance lobby.
 
Copy Service
Self-service Copy Machine is available in front of the reception desk at the entrance lobby on the 1st floor.
Coins and 1000 yen
 
Coin Lockers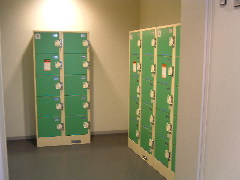 There are 70 lockers located next to the security control center in the 1st floor entrance lobby.
Vending Machines
Beverages: There are 2 vending machines located next to the ladies room in the 1st floor entrance lobby and 1 in the 2nd floor international conference foyer.
Cigarette: There is 1 machine inside the entrance to "Le Port" on the 1st floor.
Nursing Room
Next to the elevator floor on the 1st floor. Fitted with a hot water system and baby seats.
Lavatory for Physically Handicapped Persons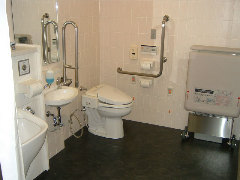 Located on every floor and ready for wheel chair use.
The lavatory on the 1st floor is ready for those using artificial excretory implants. The lavatories on 2nd through 6th floor are complete with baby seats allowing use by visitors with small children.
Wheel Chairs, Baby Cars
There are 10 wheel chairs and 5 baby cars ready for use. Please contact to the front desk on the 1st floor.
Smoking Areas
Yonago Convention Center is a completely non-smoking facility. Please make use of the smoking corner outdoors (on-site parking). We appreciate your cooperation in advance.
Visitor's Parking Area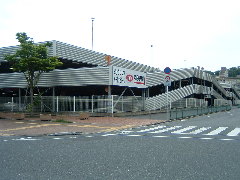 There is a multi-level parking lot across from the convention center. (Used commonly by both the Yonago City Cultural Hall and AEON Shopping Center.)
Open:
24 hours
Charge:
the first hour
free
from 8:00 to 22:00
30 min/100 yen
from 22:00 to 8:00
60 min/100 yen
the first 24 hour maximum
1000 yen
Free parking for convention users (organizer and attendees).
Please insert your parking ticket into discount authentication machine at the venue.
Capacity:
700 cars (see the map)